(식)Shik (도)Do (락)Rak means epicurism or the cultivation of refined taste.
Since opening its door in 1996, Shik Do Rak has introduced its way of Korean BBQ to its customers. It's the original house of dduk bo ssam(rice paper wrap) and has been serving its customers quality cuts of fresh meats and authentic Korean cuisines.
The ownership has changed in 2004 and has been under the same management ever since. Our goal is to continually provide our customers with quality food and great customer service.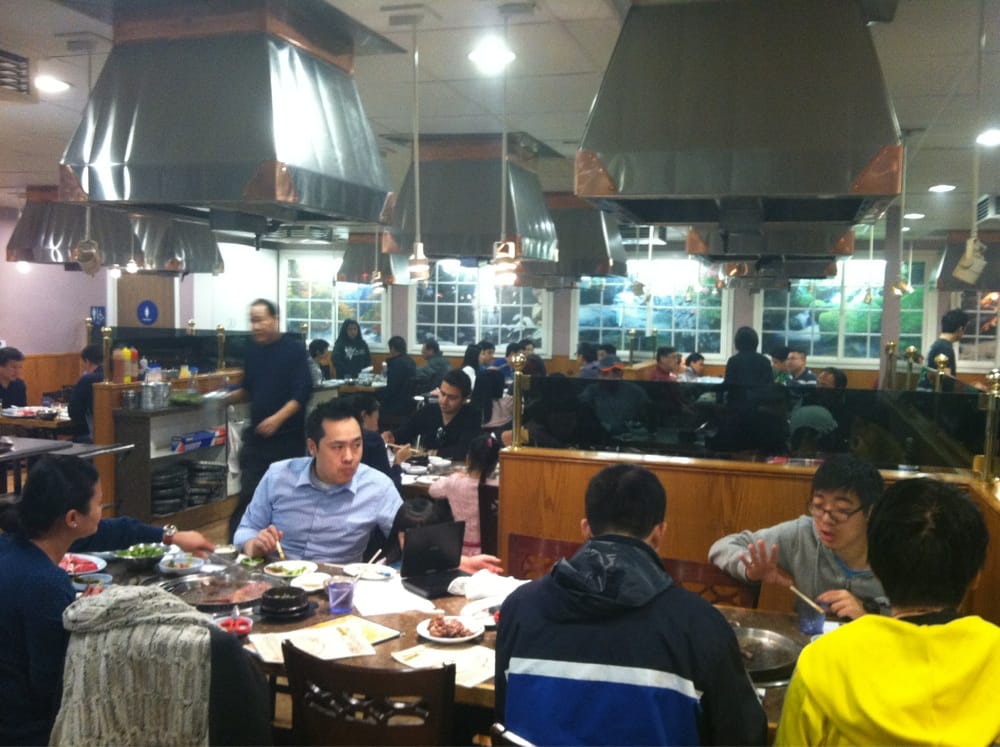 Outstanding.

The restaurant doesn't take reservations, so we arrived prepared to wait for whatever it takes. It appears that the restaurant offers special package deals for 2, 4 or 6 people, a fixed selection of meat (all beef), soups, plus some drinks (about $180 for 6). If you take the special package, you get seated right away (or get priority). There were 6 of us, everybody like beef, so this was rather a simple decision.

Everything which was served was delicious. Excellent condiments, real, tasty kimchi (unlike the stuff you buy in the can), delicious spicy soup and excellent quality meat with tasty sauces – sirloin, ribeye, short ribs and more.

Super-enjoyable process of making your food, eating and having a slow conversation – this is what I really like about Korean barbecue, more a lifestyle fixture than anything else. We also had Asahi beer which was perfectly refreshing with the meal.

Excellent, friendly, attentive service.

Most highly recommended.
-Anatoili
Hands down!!!! There has been a lot of improvement at this location. The meat was fresh and the service was great! I was very pleased my dinner! Unfortunately they no longer serve frozen yogurt:( i totally understand though. People were littering and loitering in front of the restaurant so local businesses weren't happy. Tip…ypu can save a few bucks if you pay with cash
-An
This is one of the better KBBQ spots near me and the service was pretty good. The meat is tasty and they were attentive when we run out of vegetables which we like to mix with the meat for added flavors. I believe our server's name is David (or Daniel). They also give you the option to have some steamed eggs; the pork is probably their best meat here as the beef is so-so at least from my experience. However, given the service and an overall delicious KBBQ run with a friend, we decided to make this our go-to spot whenever we crave Korean BBQ.
-Vincent
Last min decision to come here with some friends and we dont regret it!

Since there is quite a few popular places in this plaza, parking can be hard to find, especially with the 7 leaves right across from it. Although it is a big lot, so its not that hard to find spaces.

The wait was about 45 min but was expected. I noticed some people were able to call in cause they had a white board with peoples names and party size written with a time stamp also.

Once we got seated, there was a menu given to us and there was three different price points from which you can pick from. We chose the 20.99 version as it seemed like it had mostly everything we usually order anyways.

The service was pretty good for being how busy it was. The meat quality wasn't bad either. Thats what I was going to be worried about. Although their marinated short rib is amazing, def order it!

Overall I was very satisfied with the service, food, and quality. Ill be back soon, and hopefully I can call in to avoid waiting for awhile.
-Robert
I was on a late night trip back to LA with only a piece of beef jerky as sustenance for the whole day. Luckily I came across Shik Do Rak. We immediately chose the top AYCE option with 30 items for $28.99; it's called the 3-1. We could have easily chosen the 25 items for $20.99 but we didn't want to waste time reading the menu. We sat down in our emaciated state and weakly pointed to the top choice and within seconds banchan (the sides) were at the table, and only minutes later a meat platter was already on the grill.

New York, short rib, skirt, brisket, hot pepper paste pork belly, little octopus, and squid all very, very good. In fact we ordered that mass meat platter 3 times! Yeah, you're now thinking I came with a group of people, but it was only two of us and I'm pretty sure we were toe-to-toe with the table of 12.

Our waiter was seriously on point. If our grill had a little extra room he would automatically put more meat on it and cut it up. Once we were halfway through eating what we ordered, he would ask what else he could bring out. Once he saw a little crusty burnt build-up on the grill he would immediately change it. During their "last call" he asked multiple times if he could bring anything else out. This dude was a machine!!

The restaurant was clean and had good ventilation with exhaust hoods right above the grill. I'll definitely make my way back here but hopefully next time it's before 10:30pm.
-Keith
My boyfriend and our two boys drove all the way from Vegas just to try this place and let me tell you, it was worth the drive! Their meats were fresh and the appetizers were delicious (btw they have RICE PAPER)
Our server Dave went above and beyond! He gave us amazing customer service and no doubt we'll be coming back!
-Mary
My go to kbbq place! With their prices, I don't go anywhere else. Even if their prices are on the lower side, their quality of meat is still up to par! I've gone here numerous times, whether it be for lunch, dinner, birthdays, graduation dinners…

For larger parties, I definitely recommend calling ahead to put your name on the waitlist!

Servers are great and always there for refills on side dishes and remember every single one of your orders. Sometimes meat will get stuck in the drainage of the grill and they'll be right there with a chopstick to help drain. For the steaks or larger pieces of meat, they'll help cook it for you and cut it into smaller pieces.
-Brittany
Our King, Johnny, offered us the most exquisite of service. Would truly recommend to any dukes wanting to dine. He is so generous to his constituents. His grill changing abilities are to be reckoned with, and his intuitive mind is so powerful it prompts him to restock our rice paper and fish cakes when it magically runs low.

TLDR; Service hella good ty.
(P.S., our dear King, we hope we made your day, good morrow.)
-Emybeth
I've gone to Shik Do Rak three times, and I was pretty happy with my experience each time! The first time I came with a group of friends, and they always order different things from the menu so I was able to try to the different selections this place had offered for a fair price.

I'm usually a huge fan of just getting brisket and bulgogi at KBBQ places so the second time I went, I went with a friend that only eats brisket and bulgogi as well. The menu that was the cheapest option had both choice brisket and bulgogi and we went with that since that is literally the only thing we eat. We ordered many, many rounds of brisket and it was really good and decently priced. Our total came out to $35 which isn't bad considering the amount of brisket we ordered. Another thing I really like about this place is the brisket sauce. That sauce makes the meat taste so, so good. Shik Do Rak also gives out a lot of places of kimchi, which is nice.

Parking can be a little difficult since this plaza is usually always busy. The times I've gone to this place weren't busy, so I didn't have a long wait, but I've heard about how the wait can be long at this place. In addition, the servers are really nice and help you out sometimes when it comes to cooking the meat, especially for steak. Overall, I like coming here to get a brisket fix!
-Simran